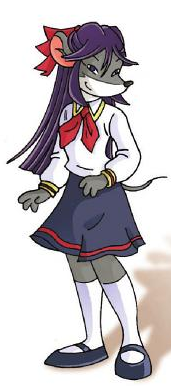 Kumi Nakamura is friends with, the Thea sisters, Sakura, and Holger. She met the Thea sisters in the book, Thea Stilton and the Cherry Blossom Adventure. She is from Japan.
kumi has a white shirt, blue skirt, red tie, red bow, purple hair, long white socks, blue eyes and black socks
When she's on campus she has to wear her regular campus clothes but when she's off campus she can wear something different. Her father runs a Bunraku theater.
Outside campus, her outfit could have been inspired by the Decora or Kawaii culture.