Colette

Colette

Nickname

Coco (unofficial)

Nationality

France

Ambition

Fashion Writer

Interests

The color pink

Strengths

She's energetic and full of great ideas

Weaknesses

Always (fashionably) late

Secret

To relax, there's nothing Colette likes more than a manicure and pedicure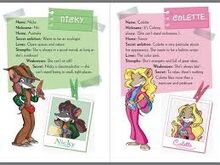 Colette is a character in the Thea Stilton books, and a member of the Thea Sisters
She hails from France and she is raised there. She has a fashion-designing cousin named Julie, who she is really close to. Growing up, she continues her studies in journalism at Mouse ford Academy along with her four best friends; Nicky, Pamela, Violet, and Paulina.
Physical Appearance
Colette wears pink jacket with beads on it, a blue turtle neck, long pink pants and a blue belt. She has light brown fur, blonde hair and blue eyes. She is seen carrying a small blue and pink heart-shaped bag. 
In Thea Stilton and the Spanish Dance Mission, Colette's hair is straighter rather than her usual wavy hair. Also her bangs are not higher as her usual one. This hairstyle is retained in later books.
Trivia
Colette's illustration has been changed a few books after being "Toon-i-fied".
In the book The Legend of the Fire Flowers, it shows Colette has a cosmetics bag which consist of her nail polish from different shades and color. Her surfboard is pink flowers and brown hearts.
Colette's favorite color is Pink, though in some Thea Stilton books like The Legend of the Fire Flowers and the Ghost of the Shipwreck, She is seen wearing blue.
Colette panics when she is unable to find the right outfit to wear at an occasion in a hurrying situation , like in The Chocolate Sabotage and in The Great Tulip Heist.
It is understood that Colette doesn't prefer to be called by a nickname, but in the newer books, she is fine being addressed as "Coco", a nicknamed first used by Violet.
In the first Thea Stilton book, The Dragon's Code, Colette does not get along very well with Violet. In later books, they may have settled their differences and became good friends after all.
Despite being French, she is rarely seen using any simple French or exclamations when she squeaks like a normal French would such as sacre bleu. The only French words Colette ever uttered through out the series were bonjour, mon ami, oui, non and Trés Chic.
In the Spanish Dance Mission, Colette is shown to be rather proficient at dancing the hula.
Colette has the most luggage among the Thea Sisters, as shown in most books. This changed, however, in The Madagascar Madness, where she only packs one suitcase.
Colette was raised in a French province, contrary to popular belief.
In The Prince's Emerald, her love interest is Ashvin's friend, Lakshan.